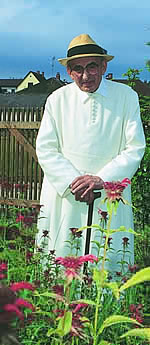 DEDICATION
This presentation is dedicated to the Austrian
Hermann-Josef Weidinger...
better known as Herbal Priest Weidinger, who died on Sunday, March 21, 2004, at the age of 86. He had studied European herbalism in his youth and traveled to China as a missionary in 1938, where he learned also of their herbal system; he returned from China in 1953. He continued his work as an herbalist and proponent of healthy lifestyle, writing some 40 books on natural health care. Until recently, he and 37 assistants prepared and prescribed herbal remedies in Karlstein, Austria, at the Paracelsus House Nature Cure Center.